The Southeast Texas B.A.S.S. Nation held its third event of the 2017 tournament season at Sam Rayburn Reservoir, Saturday, March 11, out of Jackson Hill Marina. The lake level was about 1.5 feet low, but the in great shape.  Anglers reported water clarity with as much as 4-5 foot with the re-emergence of the "grass" Sam Rayburn is known for.  The water level and clarity, the light winds, and overcast sky with possible light rain, indicated tournament day was going to be ideal conditions for multiple limits; and IT DID!
At the end of the day, 77% of the field, 101 anglers, weighed in weighed in limits. The weigh-in dock talk indicated that many bites came shallow, in spawn and post-spawn conditions.  However, many of the big ones were deeper in 5-9 foot of water.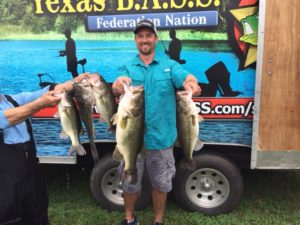 Finishing in 1st was Seven Coves Bass Club member Jason Foster  with a 5-fish limit of 22.81, with a 9.43 kicker!  This toad also awarded Jason with Big Bass of the tournament.
Following in a very close 2nd was last The BASS Club's angler, Brian Jones, with a 22.40, pound sack anchored with a 6.30 pound kicker.  3rd Place was followed by TBC angler Jason McClure with 20.88 with a 7.64 BB.
2nd place Big Bass Honors went to Katy Bassmaster Angler Anthony Phillip with a nice 7.67 toad.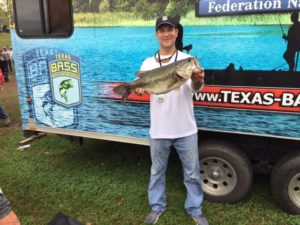 Thank you to the Houston Bass Bandits, Nacogdoches Bass Club, and No Name Bass Club for assisting with weigh-in duties. Also, special thanks to Jackson Hill Marina for hosting the event.
In less than 2 weeks one of our core Region lakes, Lake Conroe, will play host to the 2017 GEICO Bassmaster Classic. We are excited to have this opportunity to showcase Lake Conroe and our Region.  Thank you in advance to all of the volunteers for the Classic, and we hope you are able to enjoy the competition on the lake, as well as the FREE Expo at the George R. Brown Convention Center.  Visit bassmaster.com for full details on the Classic.
April 22 will be our next event on Lake Conroe out of Stow-A-Way Marina
Special thanks the following 2017 Partners for helping to make our grassroots tournament trail possible:
Robbins Chevrolet/Nissan, Impulse Rods, G&S Trolling Motors, Omega Tackle, ProTungsten Weights, Bass Boat Saver, J.J.'s Magic, Power Tackle, Lew's, Zoom Baits, Rat-L-Trap, Solar Bat Sunglasses, Kick'n Bass, Precision Sonar, big bass baits, Lakeside Boat Repair, The Rod Glove, Megabass, Apollo's Shield Apparel, Larry The Lizard Custom Baits, Legend Lake Maps, Roof Masters, Double ZZ Baits, Molix, and Big Bite Baits.