Falcon was not very forth giving on the heavy weights she is famous for
this past weekend as the South region held two separate tournaments.
Saturdays weights were light with a winning weight of just over eleven
pounds. Sundays winning weight of over eighteen pounds which gave all of
the anglers a little more satisfaction in knowing that Falcon wasn't
going to get the best of them.
Saturday Ted Sprencel with 11.45 took First Place, with Craig Crim
taking Second Place with 9.84 and rounding out Third Place was Cory
Lieta with 9.67. Buford Estep Sr was crowned Big Bass Winner with 6.83. See complete results.
Sunday Frank Garcia captured First Place with a winning stringer of
18.04, followed by Jerry Dela Fuente with 15.43 for Second Place and Big
Bass of 7.60 pounds, Third Place was awarded to Trevor Rogge with 14.75. See complete results.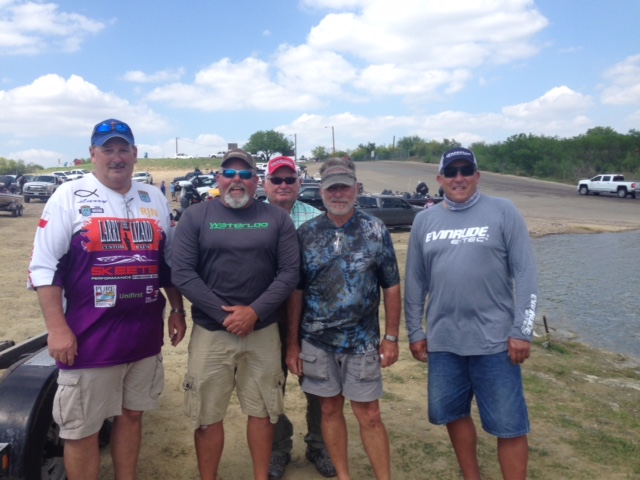 Pictured from Left to right Me, Cory Lieta, Craig Crim, and Ted Sprencel. Back Row is Buford Estep Sr. (Click to enlarge)

Jerry Dela Fuente with his Big Bass for Sunday event. (Click to enlarge)