The Southeast Texas B.A.S.S. Nation held its 4th event of the 2017 tournament season at Lake Conroe, Saturday, April 22, out of Stow-A-Way Marina. Most anglers were eager for this one due to the Bassmaster Classic being held on the lake just one month prior.  However, the mid-morning cold front and winds proved that the bite could be tough.
At the end of the day, only 3% of the field, weighed in 5-fish limits. Also, there were 39 anglers that were not able to weigh a fish, one-third of the field.
Finishing in 1st was The Bass Club member Sean Stricker with a 5-fish limit of 16.54.  Following in 2nd was Seven Coves Bass Club's angler, Michael Gasaway, with a 14.92, pound sack anchored with a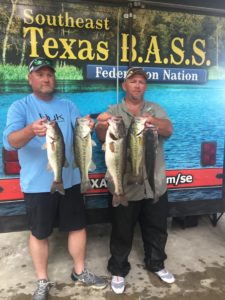 5.90 pound kicker.  3rd Place was followed by Katy Bassmaster, and Region Director, Daniel Davis with a 5-fish limit for 13.96.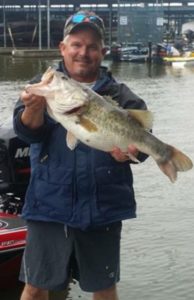 In true Lake Conroe fashion, 2 lunkers were weighed in. First place Big Bass went to Larry Green with a 9.75 toad!  Second place Big Bass was Cody Williams with 8.24.
Congrats to all that received checks as it was well deserved!
The highlight of the tournament was seeing Jimmy Patterson weigh in a keeper. We have all been praying for "Big Jimmy" as he battles cancer, and many of his fellow anglers have been involved with making sure he is getting what he needs.  We want to commend Matt Russell for volunteering, without hesitation, by helping Jimmy fish his home lake.  All involved with assisting Jimmy in any compacity exemplifies the amazing brotherhood our Region has!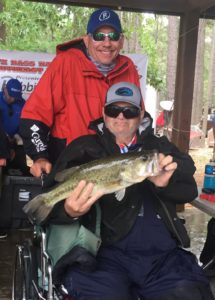 Thank you to the The Bass Club and Seven Coves Bass Club for assisting with parking and weigh-in duties. Also, special thanks to Stow-A-Way Marina for hosting the event.
May 13 will be our next event on Lake Belton out of Belton Lake Outdoor Recreational Area (BLORA).
Special thanks the following 2017 Partners for helping to make our grassroots tournament trail possible:
Robbins Chevrolet/Nissan, Impulse Rods, G&S Trolling Motors, Omega Tackle, ProTungsten Weights, Bass Boat Saver, J.J.'s Magic, Power Tackle, Lew's, Zoom Baits, Rat-L-Trap, Solar Bat Sunglasses, Kick'n Bass, Precision Sonar, big bass baits, Lakeside Boat Repair, The Rod Glove, Megabass, Apollo's Shield Apparel, Larry The Lizard Custom Baits, Legend Lake Maps, Roof Masters, Double ZZ Baits, Molix, and Big Bite Baits.