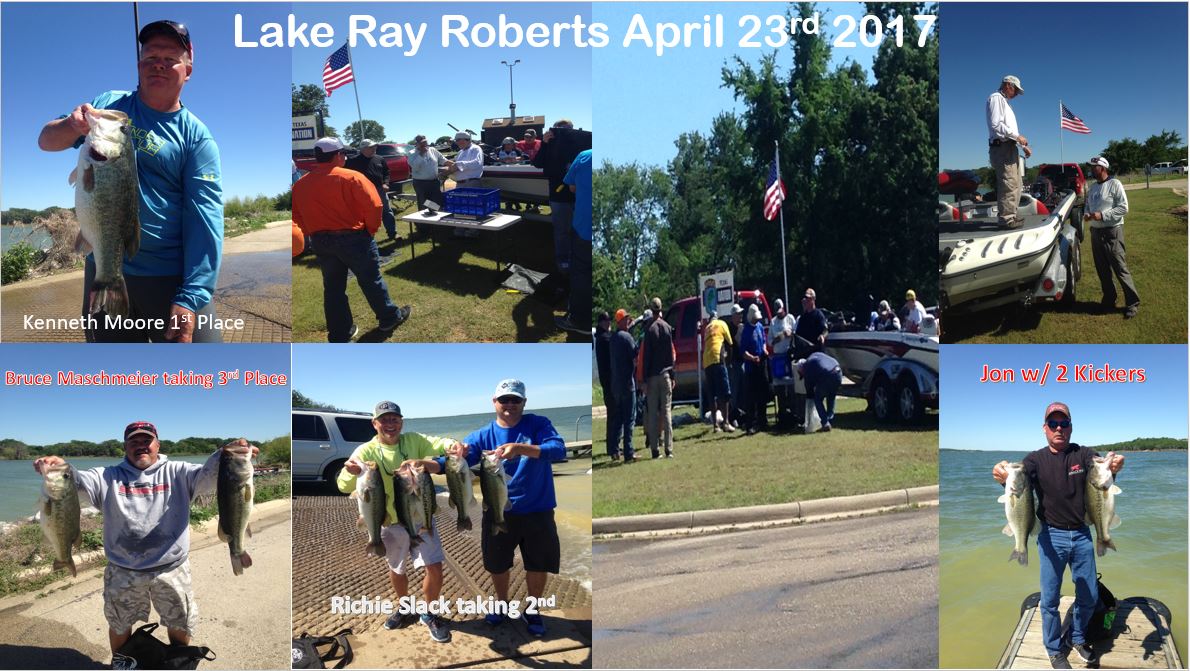 The third stop to the Northeast Region's 2017 season featured Lake Ray Roberts on April 23rd, 2017. It was the second year in a row the North East collided with the North Central Region for the much anticipated joint tournament. The reputation of Ray Bob as 'feast or famine' was clearly evident for this event that wasn't helped by a cold Northern front that changed the air temperatures some 30 plus degrees.
Although the water temperatures ranged from 64 to 68 degrees the fish didn't seem to cooperate as many anglers experienced post spawn conditions with lockjaw bass. Kenneth Moore (Red Oak Bass Club) who recently had success on Ray Bob with Bass Champs continued to bring in the hawgs and take first place with 23.17 lbs. He fished plastics from 3 – 10 ft. of water fishing North of Wolf Island. Unlike, the rest of the field that struggled to catch fish Kenneth's co-angler Lee McDowell brought in 5 keepers for 10.87 lbs. and finished 6th overall.
Another co-angler, Richie Slack (Century Bass Club), with an awesome bag of 5 keepers weighed in at 21.96 lbs. Richie had only 5 bites but they were obviously the right ones on a green pumpkin fluke that put him in second. He fished up North with his boater combing shallow water points.
Newcomer, Bruce Maschmeier (Century Bass Club), had 5 fish for 19.48 lbs. and would win most tournaments was bested by those who obviously were on them. Bruce caught eight keepers total and fished with a trick work and square bill crankbait on the east side of the lake around Jordan Park and ended up in 3rd place.
Another newcomer, Dakota Jones (Red Oak Bass Club), fresh off the collegiate tour came in with a limit of 5 fish weighing in 15.17 lbs. Dakota caught several limits of fish with a homemade jig fishing shallow mid lake.
Twenty-three out of thirty anglers caught fish. Ray Bob produced 60 bass for 179.14 lbs. with a 8.14 lbs. average. Big Fish went to Kenneth Moore that weighed 9.61 lbs. and 2nd Big Fish went to Bruce Maschmeier that weighed 6.33 lbs.
The Northeast Region's next stop is Cedar Creek Lake. It will be the 4th tournament of the season held on Sunday May 7th. This will be the 2nd combined tournament with the North Central Region and we will have the State Trailer and President at the tournament as our Master of Ceremonies. Experience the feel of a big tournament by signing up on the Website, Facebook, or contact the regional or tournament director.
There will be a BASS Nation Team Trail Tournament held on Saturday May 6th. Take advantage of another opportunity to enter the BASSMASTER's Classic. The Saturday meeting for this event will be held at 6:30 pm CST at Kammans Exxon in Malakoff. The draw will immediately occur after pre-signups and draw of partners. Late signups will start around 5:45 am CST at Log Cabin ramp, all late entries will be partner paired and get boat numbers after the last boat drawn from the Saturday drawing of partners. Participants from the NE Region will pay the NE Regional Director (those who have fished both events). For this event, let's allow the Tournament and Regional Directors pull up their boats 1st to weigh in their fish and get ready for a fast organized weigh in. There will be 3 flights for the tournament with 20 minute intervals.
https://www.facebook.com/NETXBASSNATION