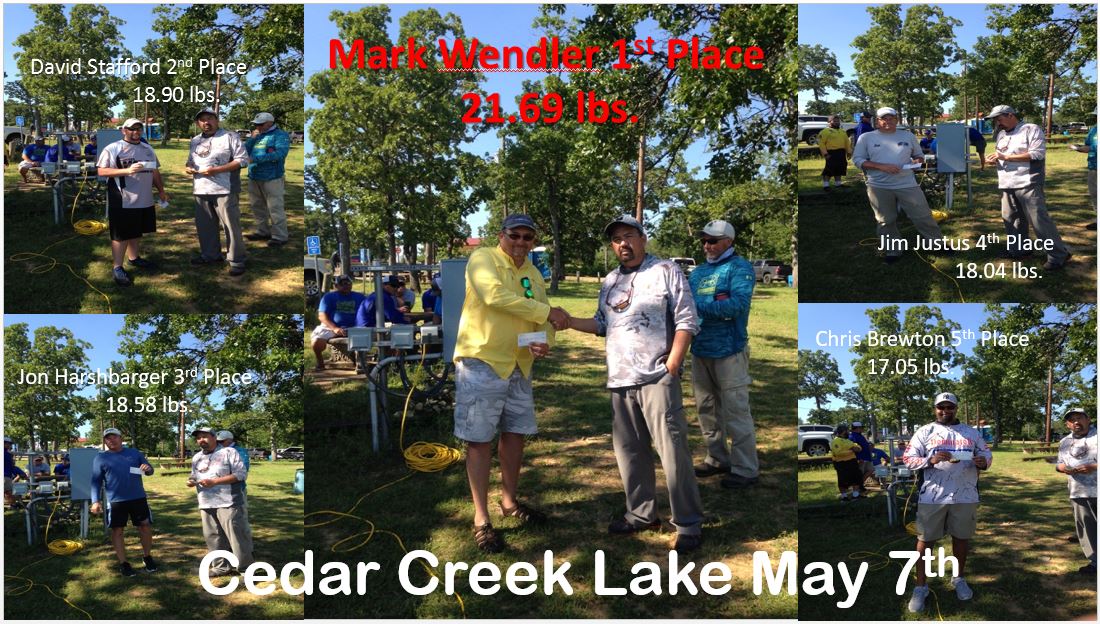 The Northeast Region's fourth stop of the 2017 season featured Cedar Creek Lake on May 7, 2017. It was the second joint tournament of the year between the North Central and North East Regions and the North Central anglers dominated the event by capturing 7 of the top 11 money spots. This was definitely 'pay back' for the last few joint tournaments where the North East has dominated.
With rising waters and water temperatures ranging from 70 to 75 degrees the fish were in a strong post spawn pattern that produced strong weights for the tournament. Mark Wendler (Bass Club of Fort Worth) brought in a big sack of hawgs weighing 21.69 lbs. and took first place. David Stafford (At-large NC Region) with another healthy sack of 18.90 lbs. came in 2nd place. Third place went to Jon Harshbarger (Century Bass Club) with 18.59 lbs. Big Fish went to David Stafford that weighed 7.93 lbs. and 2nd Big Fish went to Jim Justus that weighed 7.75 lbs.
For the North East Region's Top three anglers were Jon Harshbarger with 18.59 lbs. (1st Place), Chris Brewton with 17.05 lbs. (2nd Place), and Bobby Infedhlt with 14.21 lbs. (3rd Place). Thirty-three out of thirty-four anglers caught fish. Cedar Creek produced 115 bass for 277.57 lbs. with 8.16 lbs. average.
The Northeast Region's next stop is Lake O' The Pines. It will be the 5th tournament of the season held on Sunday July 2nd. There will be a Saturday signup and partner drawing held at 3:00 pm at Alley Creek Ramp. Late signups will start around 5:30 am CST at the Alley Creek ramp. For all events, let's allow the Tournament and Regional Director to pull up their boats 1st to weigh in their fish and get ready for a fast organized weigh in.
https://www.facebook.com/NETXBASSNATION