Yoo-hoo & Nesquik, that was the best way to describe the water color this past Saturday as the Southeast Texas B.A.S.S. Nation held its final event of the 2017 tournament season on Lake Livingston. After a major tournament the previous weekend, and reports of a tough (or no) bite in practice, the anticipation for the final event of the year that would determine Angler-Of-The-Year, Club-Of-The-Year, and clinch the final Top-40 Championship list forced 89 anglers to grind it out.
At the end of the day, only 7 anglers of the 89-angler field, weighed in 5-fish limits. Also, there were 35 anglers that were not able to weigh a fish, 40% of the field.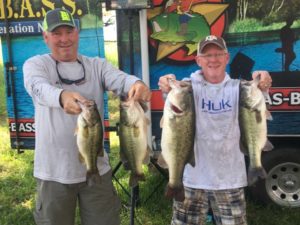 "There's always someone that finds them", and that angler was The Bass Club member David Perciful with a 5-fish limit of 19.64 pounds. David's limit was anchored by a 7.39 toad, which also earned him Big Bass honors.  Following in 2nd was Onalaska Bass Club angler, Steven Skyvera, with a 16.56, pound sack with a 6.30 pound kicker (2nd place BB).  3rd Place was followed by Randy Knight with 13.76 , followed closely by 13.16 by Trea Luedke for 4th Place.  Congrats to all that received checks as it was well deserved!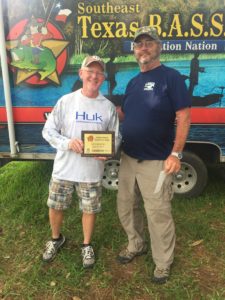 Brian Jones' 6th Place finish sealed the deal as he earned the Angler Of The Year title; quite an accomplishment in a tough field. Brian is also a member of The BASS Club, who had a great year as they claimed their 4th Consecutive Club Of The Year Title.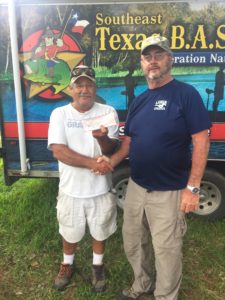 After the Top-40 Anglers were announced, the Top-40 Championship lake was announced, Lake Whitney. The dates will be September 15-16 with the host ramp tournament and details to be announced mid-summer.
Thank you to the Onalaska Bass Club for assisting and special thanks to Waterfront Lodge & Marina for hosting the event.
Special thanks the following 2017 Partners for helping to make our grassroots tournament trail possible:
Robbins Chevrolet/Nissan, Impulse Rods, G&S Trolling Motors, Omega Tackle, ProTungsten Weights, Bass Boat Saver, J.J.'s Magic, Power Tackle, Lew's, Zoom Baits, Rat-L-Trap, Solar Bat Sunglasses, Kick'n Bass, Precision Sonar, big bass baits, Lakeside Boat Repair, The Rod Glove, Megabass, Apollo's Shield Apparel, Larry The Lizard Custom Baits, Legend Lake Maps, Roof Masters, Double ZZ Baits, Molix, and Big Bite Baits.