On Sunday, June 25th, the final TBTT was held on Lake LBJ out of Bluebriar Park in Granite Shoals. A total of 14 teams met before sunrise ready to get game on. After a prayer led by Robert Brown and our Country's National Anthem the teams departed to their boats and idled out at approximately 6:15 am. The weather report called for possible rain and thunderstorms but we were blessed all day with beautiful fishing weather. No rain and not extremely hot.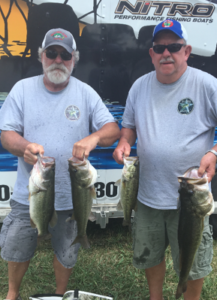 After almost 9 hours of fishing all 14 teams brought sacks to the scales. James McBride and Mark Jarvis took the top honors with a limit of 5 nice LBJ bass tipping the scales at 20.76 pounds backed by a monster kicker bass that took the Big Bass paycheck weighing in at 9.02 pounds.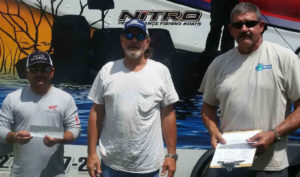 Coming in 2nd Place for the event was first time TBTT team of Lee Beuershausen and Randy Grounds. Lee and Randy found their limit weighing in at 17.67 pounds.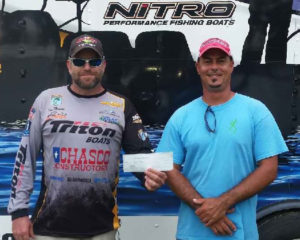 The veteran TBTT team of Thomas Martens and Dean Alexander claimed the final check for the event with a limit just 0.29 of a pound back of Lee and Randy which weighed in at 17.38 pounds to claim 3rd Place.
The team of David Akin and Delton Havins (alternate) claimed 4th with 14.40 pounds and another first time TBTT team of Wade MeHaffey and Mark Leatherman rounded out the Top 5 weighing in 12.27 pounds.
To find out if your team qualified for the Championship see the TBTT team standings on the Texas Team page or click here.
Next stop for the TBTT will be the Championship on September 30th and October 1st on Lake Limestone. The Groesbeck Chamber of Commerce will be our host for the event. All TBTT teams need to watch information to be posted in next few weeks. Please note the attachment showing teams qualified for Championship.
David Glezman
President
Texas B.A.S.S. Nation