The Southeast Texas B.A.S.S. Nation began their 2018 tournament season at Coleto Creek Reservoir, Saturday, January 20. There were reports of a tough bite before they tournament, and the previous week's snow and ice precipitation made the fishing even more challenging.  Fortunately, even with the fog delay at take-off, we were blessed with moderate temperatures and very  little wind .
Our Coleto tournament in January 2017 resulted in 92% of the field weighing in fish, with 52 of 112 weighing in limits. This year was a major change with only 42% weighing in at least 1 keeper, and only 1 limit in the 112-angler field.
That one limit was caught by The Bass Club's angler Matt Russell weighing in at 11.71 pounds, with a 5.30 kicker. Matt's fellow TBC member, Wesley Johnson, came in 2nd with 4-fish for 9.95, followed by Katy Bassmaster, Kyle Fontenot, with 3 nice fish for 8.99 pounds. Big Bass Honors go to Wesley Baxley with a nice 6.44, followed by 2nd Big Bass of 5.70, caught by Bryan McGehee.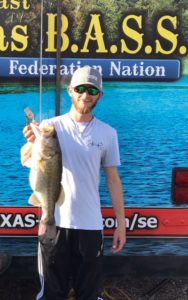 Thank you to The Bass Club & Brazos Anglers for assisting with parking and weigh-in duties. The Region Directors would also like to thank all the participants for the orderly launch and weigh-in.  Finally, thank you to Coleto Creek Park for hosting the tournament..
We look forward to seeing you all at Sam Rayburn, Jackson Hill, February 17.
*Special Note: We recently lost 2 of our best anglers, Michael Gasaway and Phil Garrod.   Last year Michael came in 2nd at Conroe, and Phil had Big Bass at Coleto.  Please keep their families and friends in your thoughts and prayers.  Also, please continue to pray for Jimmy Patterson for health and healing.