10/13/12: Scott Grammier with the Katy Bassmasters is the 2012 SE Region Top 40 champion. He brought in a three fish limit each day for an overall weight of 32.08#.  His big fish for the tournment was 7.67#.  Scott will represent the SE Region on the State Team at the 2013 Central Divisional.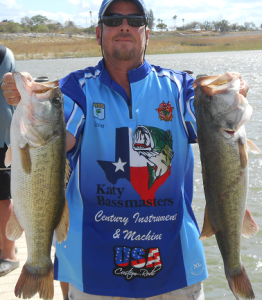 A three fish per day limit was imposed at this Championship in the interest of fish care.  The combination of 5 big fish, high temperatures and low oxygen content made high mortality rate a real possibility.  As a result only two fish out of 135 were lost at this event.
Congratulations to Lucas Orsak with Brazos Anglers Bass Club with the overal Big Bass of 10.43#.