The weather turned out nice for the second stop on the 2017 Texas Bassmaster Team Trail. A 52 degree morning turned into an 82 degree afternoon. However, a classic blue bird day with no clouds, bright sky and light wind didn't appear to dampen the bite for most teams. That says a lot for the 34,000 acre impoundment. Lots of underwater structure, boat docks and shoreline brush to pick apart.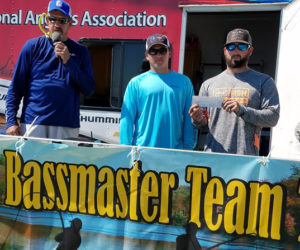 The team of Keith Carney and Chris Beeson unlocked the lake with a 5 fish limit weighing 22.69#. They had a hard time selecting the big fish out of that stringer with three twins in the 5 1/2 pound class. But even then it wasn't big enough to take big bass honors at 5.51#. All together a very nice showing.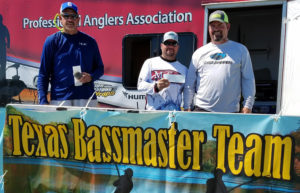 The second place team of Russell Pasket and David Akin also had an impressive 5 fish stringer that tipped the scales at 21.29#. Their big bass weighed in at 4.96#. These guys didn't travel very far from the boat ramp to flip and pitch a beaver in the willows to find hungry takers. This was the 2016 Team of The Year so they are keeping the bar set high for the 2017 season.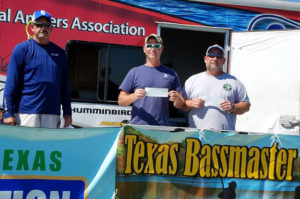 Taking third place was the team of Tony McBride and James Seymour also bringing a 5 fish limit to the scales that weighed 20.28#. And YES James had the big bass of the event at 6.29#. A nice addition to their payday.
The next stop on the Texas Bassmaster Team Trail trail is Lake LBJ on June 25, 2017 at Bluebriar Park (Granite Shoals). Find a partner and make plans to join us. Those Teams that fished in all three trail events qualify for the Championship automatically. However, a team can still qualify for the Championship by finishing in the top 12 places at LBJ, so it's not too late!!
Someone will compete at the BASSMASTER CLASSIC from the Bassmaster Team Trail why not you? If you don't belong to a Texas B.A.S.S. Nation club now, give us a call and we can guide you to a club in your area.
Hope to see you there.
David Glezman
President
Texas B.A.S.S. Nation