Day One Weigh-In
Day one saw Jon Harshbarger leading the State Team boaters by bringing a 5 fish limit weighing 16-2, and Glen Hann leading the non-boaters with a 3 fish limit weighting 11-2. Results can be found at on bassmaster.com (leaderboard).

33 Photos
Registration and Briefing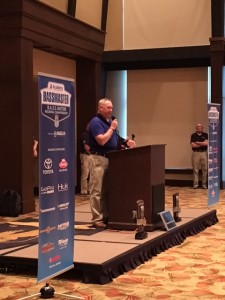 Today kicks of the 2016 Academy Sports & Outdoors B.A.S.S. Nation Central Regional presented by Magellan. Twenty of your fellow Texas B.A.S.S. Nation anglers are competing in this year's event under the new format, on Lake Guntersville. Weigh-in coverage begins at 2:15pm ct. on Wednesday, Thursday and Friday, and can be viewed on bassmaster.com (leaderboard and live weigh-in).
Meet your 2016 Texas B.A.S.S. Nation State Team
Bob Meder – Non-boater of the Quality Bass Sportsman Society, qualified through the 2015 Texas B.A.S.S. Nation South Region Championship as the top non-boater
Chance Woodard – Boater of the Northeast Texas Anglers, qualified through the 2016 Texas B.A.S.S. Nation State Championship as the top Texas B.A.S.S. Nation Northeast Region boater
Charlie Barnes – Non-boater of the Big Sandy Creek Bass Club, qualified through the 2016 Texas B.A.S.S. Nation State Championship as the top Texas B.A.S.S. Nation North Central Region non-boater
Darrell Campbell – Non-boater of the Golden Triangle Bass Club, qualified through the 2015 Texas B.A.S.S. Nation North Central Region Championship as the top non-boater
David Porter – Non-boater of the Century Bass Club, qualified through the 2016 Texas B.A.S.S. Nation State Championship as the top Texas B.A.S.S. Nation Northeast Region non-boater
David Zak – Non-boater of the San Angelo Federation Bass Club, qualified through the 2015 Texas B.A.S.S. Nation Panhandle/West Region Championship as the top non-boater
Frank Garcia – Non-boater of the Brush Country Bassmasters, qualified through the 2016 Texas B.A.S.S. Nation State Championship as the top Texas B.A.S.S. Nation – South Region non-boater
Glenn Hahn – Non-boater of the Anglers Bass Club, qualified through the 2016 Texas B.A.S.S. Nation State Championship as the top Texas B.A.S.S. Nation Panhandle/West Region non-boater
Jon Harsbarger – Boater of the Century Bass Club, qualified through the 2015 Texas B.A.S.S. Nation Northeast Region Championship as the top boater
Kelly Hudson – Boater of the Callahan County Bass Club, qualified through the 2015 Texas B.A.S.S. Nation Panhandle/West Region Championship as the top boater
Kenneth Piere – Boater of the Quality Bass Sportsman Society, qualified through the 2016 Texas B.A.S.S. Nation State Championship as the top Texas B.A.S.S. Nation South Region boater
Kent Sikes – Boater of the Golden Triangle Bass Club, qualified through the 2015 Texas B.A.S.S. Nation North Central Region Championship as the top boater
Kris Cartrite – Boater of the Panhandle Hawg Hunters, qualified through the 2016 Texas B.A.S.S. Nation State Championship as the top Texas B.A.S.S. Nation Panhandle/West Region boater
Kyle Bordelon – Non-boater of the Katy Bass Masters, qualified through the 2015 Texas B.A.S.S. Nation Southeast Region Championship as the top non-boater
Lee McDowell – Non-boater of the Red Oak Bass Club, qualified through the 2015 Texas B.A.S.S. Nation Northeast Region Championship as the top non-boater
Mike Robbins – Boater of the Quality Bass Sportsman Society, qualified through the 2015 Texas B.A.S.S. Nation South Region Championship as the top boater
Paul Garrett – Boater of the Seven Coves Bass Club, qualified through the 2016 Texas B.A.S.S. Nation State Championship as the top Texas B.A.S.S. Nation Southeast Region boater
Ronald Kost – Non-boater of the Seven Coves Bass Club, qualified through the 2016 Texas B.A.S.S. Nation State Championship as the top Texas B.A.S.S. Nation Southeast Region non-boater
Russell Pasket – Boater of the Brazos Anglers Bass Club, qualified through the 2015 Texas B.A.S.S. Nation Southeast Region Championship as the top boater
Tony McBride – Boater of the H.O.T. Bass Assassins, qualified through the 2016 Texas B.A.S.S. Nation State Championship as the top Texas B.A.S.S. Nation North Central Region boater