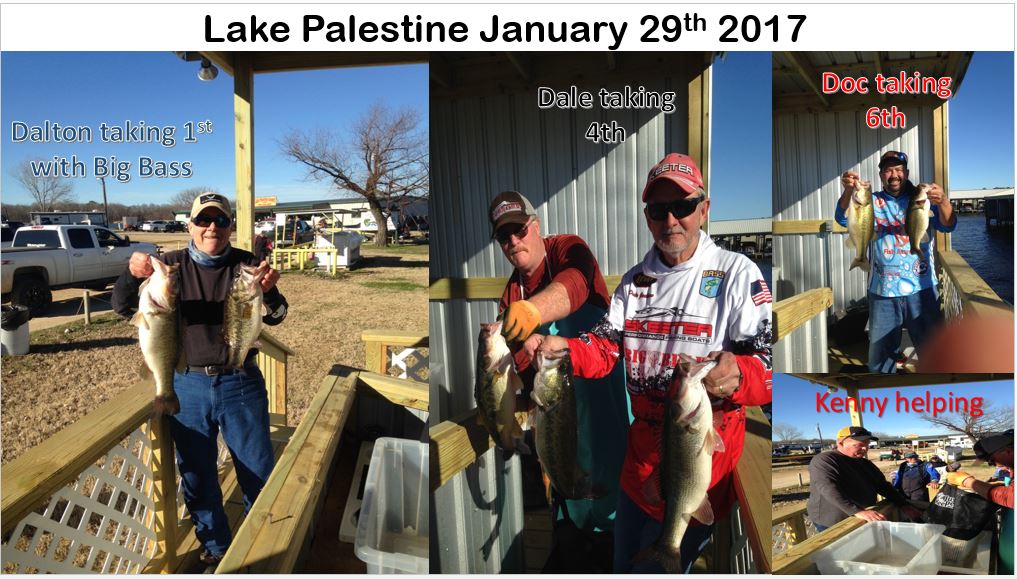 The excitement was high for the Northeast Region's 2017 kickoff on Lake Palestine on January 29th, 2017 as talk of big stringers were caught the previous week. However, Mother Nature decided to bring winter temperatures back to the 50's for the 31 angler. Just a week before the tournament, water temperatures were rising to the low 60's in the back of the creeks. The tournament started with a winter morning of 35 degrees with winds from the Northwest gusting to 20 mph throughout the day. The high temperatures that reached to the mid 50's as water temperatures ranged from 53 to 58 degrees.
One of the hottest anglers from 2016, Dalton Pratt from the Red Oak Bass Club, clobbered the field with five bass weighing 19.53 lbs. that was anchored by the big bass of the tournament 6.32 lbs. Dalton caught his fish shallow on senkos and crankbaits.
Randy Kvapil (Century Bass Club) came in second with five bass totaling 15.20 lbs. Randy caught most of his fish shallow throwing a chatterbait. Newcomer, Todd Guernsey from Red Oak Bass Club brought in four bass weighing 13.53 lbs. and the second big bass 5.39 lbs. Todd caught his fish throwing spinnerbaits and crankbaits on secondary points and docks.
Twenty-five out of thirty-one anglers caught fish. Palestine produced 71 bass for 188.36 lbs. with a 7.53 lbs. average. First Big Fish went to Dalton Pratt that weighed 6.32 lbs. and 2nd Big Fish went to Todd Guernsey that weighed 5.39 lbs.
The Northeast Region's next stop is Brandy Branch. It will be the 2nd tournament of the season held on Sunday March 19th. Sign up on the Website, Facebook, or contact the regional or tournament director. There will be a Saturday March 18th meeting at Main Ramp at 4:00 pm CST. The drawing of partners at tournament signups will start around 4:10 pm CST. Good luck to all who are fishing the State Top 6 Championship on Falcon and we'll see you on Brandy Branch. Please note that the Northcentral Region's 1st tournament will be on February 26th on Lake Belton. Anglers should fish this tournament to get two shots at making the Texas State Team.
https://www.facebook.com/NETXBASSNATION
Click here for Lake Palestine Results