May 1, 2013
Wednesday evening The Texas Environmental Excellence Award from the Texas Commission on Environmental Quality (TCEQ) was presented to Ron Gunter (SCBC) and Mark Webb (TPWD) during a banquet at the TCEQ convention/expo at the Austin Convention Center.  Other partner recipients in attendance were SCBC President Derek Taylor, Dave Terre, Craig Bonds, Rick Ott, Gary Saul, and Carter Smith with TPWD, Brett Raley & Blake Kellum with SJRA, Ed Parten with TBBU, Dr Michael Smart and Lynde Dodd from LAERF and Tim Cook – Conservation Director Texas B.A.S.S. Nation. This prestigious award was the result of the collaboration of many different organizations and the accomplishments of the Lake Conroe Aquatic Habitat Partnership.
Seven Coves Bass Club me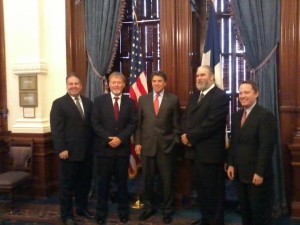 mber and Assistant State Conservation Director Ron Gunter (left of Gov.) and Texas Parks & Wildlife Regional Biologist (and partner) Mark Webb (right of Gov.) met Governor Perry at the State Capital today in honor of the award. Proclamations were also read on the floor of the Texas House of Representatives and The Texas Senate.
"I cannot begin to tell you how proud I am of the Seven Coves Bass Club." said Tim Cook, State Conservation Director. "What an outstanding example SCBC has set for what a Bass Club can accomplish. This award is one of the highest honors that can be given in the State of Texas for conservation work of any kind. Every member of the Texas B.A.S.S. Nation should be proud to be part of an organization that gives so much back to the sport we all love. Every TBN club has the ability to get involved as SCBC has done, even if it is only for one small project a year. I would be happy to help any of our clubs get started."