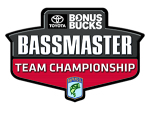 February 18, 2018
Texas Boat World BASSMASTER Team Trail – Qualifier #1 – Lake LBJ, Granite Shoals, Texas
The Texas Boat World Team Trail (TBTT) held its 2018 Qualifier #1 at beautiful Lake LBJ on February 18, 2018. The stakes were high, as the competitors were seeking to qualify the Texas year-end championship to be held on Lake Belton – October 27-28, 2018, where team(s) will earn the right to compete in the National Toyota Bonus Bucks BASSMASTER Team Championship to be held at Lake TBD in December 2018. Qualifier #1 was held from Bluebriar Park – Granite Shoals, Texas, where the stage was set for an exciting finish with the fish being mostly in the classic pre-spawn mode. Lake LBJ is surrounded by boat docks and beautiful lakeside homes, and has an abundance of shoreline cover, brush-piles, and ledges where those big fish reside. The lake activity peaks in the summer months, but in early February the lake was virtually left to the Anglers competing at this tournament.
The weather was pleasant, no fog, overcast skies, mid 50s and just a beautiful morning for a great day of fishing. The anglers all retuned to the weigh-in at 3:00 p.m., and the crowd was excited to see some heavy bags come to the scales. One team topped the scales with a bag of fish weighing an impressive 29.53. The team of David Stidnum and Gerald Poboril have fished together for many years, but did not get to practice for this event, and just went to a spot where they have caught them before, and had the bag by 8:30 a.m. They did not cull any fish later and just moved around the lake looking for other prime areas to fish for the remainder of the day. Second place went to a local team – Lee Beurshausen and Randy Grounds, with a five-fish limit weighing 18.60 lbs. Third place went to the team – David Miller and Keanu Brady, with a bag weighing 17.36 lbs. The overall big bass of the tournament weighed in at 7.53 lbs, and was caught by the team of Mike Grounds and Ken Everet.
The top 10 teams at this event earned a qualification into the Texas Boat World Team Championship, which will be held on October 27-28, 2018 at Lake Belton. It is not too late for YOU, to sign up and compete for your opportunity to fish at the BASSMASTER Elites Classic in 2019. There are four (4) more qualifier events scheduled around Texas – Qualifier #2 – March 17, 2018 @ Lake Possum Kingdom, Qualifier #3 – April 22, 2018 @ Lake Conroe, Qualifier #4 – May 5, 2019 @ Lake Coleto Creek, and Qualifier #5 – September 22, 2018 @ Lake Cedar Creek.
Someone will compete at the BASSMASTER CLASSIC – why not you? Come on out this next year, and I believe you will find that these events are competitive, but also conducted amongst friends. If you are on the fence about the new and exciting Texas BassMaster Team Trail (TBTT), go to the webpage and check it out. What a great way to enjoy competing, with a good friend in the boat!
Elton D. Brock
Director
Texas BASSMASTER Team Trail