The Southeast Texas Bass Nation kicked off their 2016 season at Coleto Creek Reservoir on January 16. There were a total of 129 registered participates with 94 boats. The weather started out beautiful but halfway through the day, a front brought wind, rain, hail and lightning.
After all the fish were weighed and tallied, Steven Nieto of Bass Anglers of Lake Houston captured the win with an impressive sack of five bass tipping the scales at 19.94 lbs. Nieto caught his fish in the 15-20' depth range on Texas rigged creature baits. Steven would like to thank his sponsors, Kistler Rods and Kustom Kicker jigs.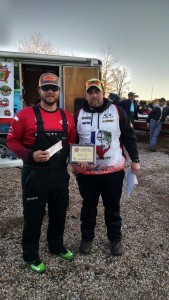 Finishing in 2nd place with a weight of 18.30 lbs was Albert Collins of Nacogdoches Bass Club. Collins targeted his fish in the 12-20' range using a Texas rigged Missile Baits Tomahawk worm and a 6th sense crankbait. Albert would like to thanks his sponsors, Kistler Rods, 6th Sense Lures and Missile Baits.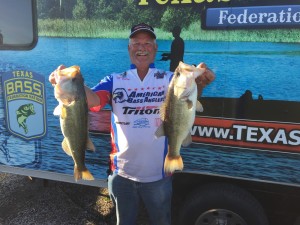 Close behind Albert, finishing in 3rd place, was Russell Pasket of the Brazos Anglers with a 5 fish sack weighing in at 18.14 lbs which included a ½ pound Dead Fish Penalty but he made up for that 2nd place loss by bringing in the Big Bass of the tournament weighing in at 5.67 lbs. Pasket was fishing in the 10-15' range using a Carolina rigged creature bait. Russell would like to thank his sponsors, Kast Fishing, Only 1 Rentals and Hidden Lake Retrievers.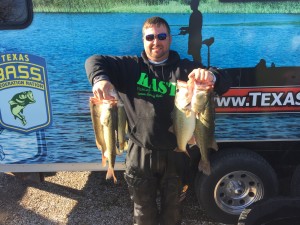 Second place Big Bass went to Don Kemp with a bass weighing in at 5.02 lbs.
The Southeast region would like to thank our sponsors Robbins Automall, Impulse Rods, Lew's Reels, 6th Sense Lures, Pro Tungsten, Precision Sonar, Rod Glove, Power Pole, Bass Boat Saver, Mister Twister, Rod Sox, G & S Trolling Motor, Biobor, Zoom Baits, Solar Bat, JJ's Magic and Lake Fork Tackle. Our next event will be February 20 on Lake Conroe.