October 17-18, 2014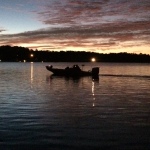 The Southeast Region held its TOP-40 REGION CHAMPIONSHIP on beautiful Lake O' The Pines. On October 16th, forty of the top anglers in the Southeast Region met at the Five D Cattle Company Steak House in Avinger, Texas for the pairings banquet and award ceremony. The anglers were treated to a fine dinner and two awards were presented. Albert Collins, of the Nacogdoches Bass Club, was presented the 2014 Angler of the Year trophy and a check for $3,180.00 for his spectacular performance this year. Representatives of "The BASS Club" were presented the 2014 Club of the Year trophy which they claimed in the final event of the year edging out the six-time in a row winning club, Seven Coves Bass Club, by 27.5 points in a hard fought back and forth battle all year long. All the anglers were presented a customized shirt this year for qualifying for the championship event. After enjoying the wonderful meal a brief review of the rules and regulations was conducted and then the angler pairings were announced for the first day of competition on Friday, October 17, 2014 at Johnson Creek Park.
The sky was clear. The wind was light. The stars and crescent moon were shining bright – this is what the anglers were blessed with during day 1 launch and take-off. It appeared all the anglers were excited to get to work as all boats were in the water and ready to go well before the sun began to rise in the horizon. When the Eastern sky became bright enough to shed light on the lake, we started opening ceremonies with a prayer by Assistant Director, Derek Taylor, and the playing of our countries National Anthem. At approximately 7:05 am the Southeast Region Angler of the Year, Albert Collins, led the 20 boat field to start the competition with weigh in time scheduled for 3:00 pm.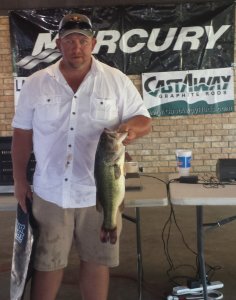 The day continued to be clear and mild with light winds out of the Southeast, a type of day that is just that much better when spent on a lake such as the Lake O' The Pines. All would have been even more perfect except for the issue in catching keeper 14-inch long fish according to a majority of the anglers arriving at weigh-in. Out of the 40 anglers competing, only 34 anglers brought fish to the scales this first day, and only 9 anglers managed to find their 5 fish limit. Sean Stricker of "The BASS Club" set the mark early weighing in his limit which weighed 14.49 pounds backed by a solid 6.12 pound kicker bass that also claimed the "big bass for the day" side pot. Ricky Bishop of the Seven Coves Bass Club weighed in his limit of five that tipped the scales at 13.84 pounds giving him a solid start. Wayne Triana of the Nacogdoches Bass Club put himself in the running with five fish that weighed 11.37 pounds and Nathan Wolfgang, Beaumont Bass Club and 2014 A.O.Y runner-up, came in solid with 10.54 pounds on his five fish. Then Albert Collins pulled his sack from the holding tank and all got quite when all could see that his sack appeared to be full. Albert presented his best five that sent the scales to 19.50 pounds to claim the lead after Day One. After all had weighed in and the next day pairings were announced, I spoke with Albert and he stated that he had caught around 15 keeper bass that day using Missile Baits Tomahawk worms (sponsor), Mr. Twister Hang 10 worms (sponsor) and using Kick'n Bass fish attractant (sponsor). Albert throws these baits on Tour Star Rods (sponsor).
Saturday, October 18, 2014, found over 30 anglers talking about having to swing for the fence to catch the first day leader Albert Collins. Again we were greeted by fairly clear skies but a slight front had blown threw overnight resulting in increased winds out of the Northeast. For some anglers just behind Albert, their strategy was to just repeat their day one performance with hopes that Albert would not be able to produce quality fish such as what he found on day one. When the sun cleared the Eastern horizon, and it was safe to get the day started, Albert again led the field out for the final 8 hours of competition. When the day came to an end and all had weighed in Albert Collins had indeed failed to find the quality but did manage to find a limit that weighed in at 10.56 pounds to give him a two day total of 30.06 pounds and the title of 2014 Southeast Region Top 40 Champion. Mark Finch, who qualified as a boater for this event but due to motor issues had to compete as a non-boater, came from 16th place after day one with 4.88 pounds to claim 2nd Place with a second day limit that weighed 14.36 pounds to give him a two day total of 19.24 pounds, Marks sack was backed by a 4.87 pound kicker that also got him the day two big bass side pot. Nathan Stroup of "The BASS Club" claimed a 3rd Place finish after weighing in 9.60 pounds on day two for a two day total of 18.62 pounds. Claiming 4th Place with a total two day weight of 18.05 pounds was Terry Reed of the Seven Coves Bass Club. Terry showed consistency weighing in limits both days. Russell Paskett of the Brazos Anglers Bass Club claimed 5th Place by also finding a five fish limit each day for a total weight of 17.85 pounds for the event. The top five places received a share of the $3,180.00 Championship payout, and each received a plaque presented by Ricky Bishop and Robbin's AutoMall. Sean Stricker received the "Big Bass" trophy for the 6.12 pound hawg he caught on day one.  Final Results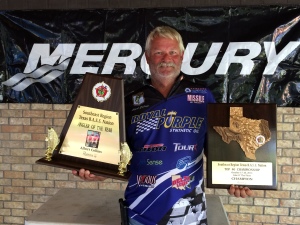 I want to thank Derek Taylor (Asst, Director), David Taylor (Youth Director) and my wife Stacy for all their help putting on this event. We wish to congratulate Albert on his win and qualification to the 2015 Texas State Team. We also wish Albert the best of luck as he competes in the 2014 B.A.S.S. Nation Championship in November on the Quachita River in Louisiana representing the Texas B.A.S.S. Nation.
David Glezman
Southeast Region Director