The North Central Region finalized its 2013 season with a championship – winner takes all tournament – at beautiful Lake of the Pines, in Northeast Texas. All year, the standings leader board rung up the names of Martin, Albrecht, and McBride and it proved to be a close one right to the very end. At stake was the coveted placement for the 2014 Texas State Team, and to be able to compete against other B.A.S.S anglers at the Divisional, leading to potential qualification to fish the B.A.S.S. National Federation Tournament. The tournament format allowed 26 competitors to qualify for the event, and 19 elected to participate. The field had 10 boats on the water each day, with co-anglers.
The morning of the Day 1 was absolutely beautiful, with clear skies and crisp temperatures. After a tribute to the National Anthem, the field of contestants embarked on the clear waters to destinations where fishing was hot real estate. Leading the way of Day 1 of the championship event, was Gary Martin, from HOT Bass Assassins with a five-fish limit weighing 18.70 lbs, anchored by a 6.49 big bass. Mark Wendler, from Bass Club of Ft. Worth was second with a five-fish limit weighing 15.69 lbs, and a 4.93 big bass. Jimmie Vann secured third place with a five-fish limit weighing 13.18 lbs.
At the final weigh-in for Day 2, Mark Wendler came to the scales with another solid limit of fish weighing 14.79, with a 5.31 lb big fish. Marks' solid performance (2nd place) fell a bit short, with a total combined weight of 30.49 lbs. Gary Martin weighed his limit for 14.21 lbs, securing the top finish for the tournament with a two-day total of 32.91 lbs. Co-Angler Hershul Smith brought another five-fish limit of fish to the scales on Day 2, weighing 13.27 with a 4.52 big fish, to solidify his 3rd Place finish and a two-day total of 25.05 lbs.
Rounding out the top five were Bryon Albrecht (4th) with a total combined two day weight of 22.63 lbs, and Richard (Red) Michael (5th) with a combined two day weight of 22.25 lbs.
I had the pleasure of fishing the final day with Gary Martin, and he used both Tour Star Rods (http://tourstarproducts.com/) and Missle Baits D-bomb soft plastics (http://www.landbigfish.com/MissileBaits/MissileBaitsDBomb.cfm) to secure his limits each day. Limits of fish were caught with several different patterns all over the lake. Some participants headed for the crystal clear lower lake and were able to catch fish on c-rigs, and shaky heads, while others headed up-river and fished a variety of soft plastics, rattletraps, and top waters to bring limits of fish to the boat. One angler stated that the top water bite was absolutely fantastic, and the fish were schooling all around him. The championship qualifiers all enjoyed the two-day event and the format from B.A.S.S. Federation lays the groundwork for those qualifying as co-anglers to raise to the boater spots in future events.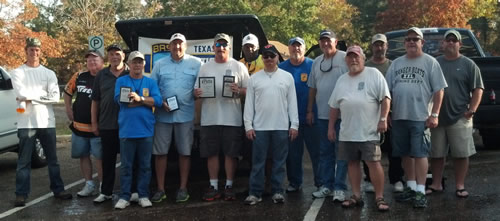 If you haven't experienced the format of the North Central Region Tournament trail – it's open to both boaters and non-boaters, as members of Texas B.A.S.S Nation. I encourage you all to come out at the 2014 events, and compete at this trail. It's competitive, but filled with a great group of folks from the Region, that all strive for the best in everyone. I have developed many friends by fishing in these events, and I know you can too.
Best regards,
Elton D. Brock
North Central Region Director