Southeast Kicks Off 2015 Season at Big Sam! 
- David Glezman, Southeast Region Director
The Southeast Region kicked off the 2015 season this past Saturday, February 21st, on Sam Rayburn Reservoir out of Jackson Hill Marina where 135 anglers were greeted with overcast skies, breezy conditions and air temps in the 50's. Weather reports called for the chance of showers during the day and the winds to pick up to the 15 mph range out of the South. As the anglers prepared for the day there were mixed fishing reports and hopes that the predicted cold front that was moving in later that day would generate a better bite. At approximately 6:40 am we officially began our season with a prayer by Assistant Director, Derek Taylor and the playing of our countries national anthem. At 6:47 am the first boat of 100 was cleared for takeoff and the fishing began.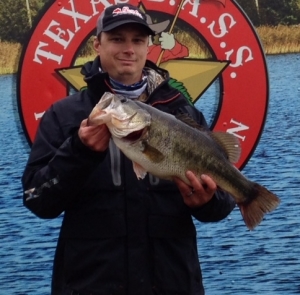 The weigh in began at 3:00 pm and 104 of the 135 registered anglers brought 327 bass across the scales for a total weight of 717 pounds. After the scales were closed, Mark Finch of the Seven Coves Bass Club claimed the title of Champion with his 5-fish limit that pressed the scales at 17.01 pounds. Mark's bag was backed by a solid 5.22 pound kicker. Claiming the 2nd Place spot was Dwayne Luby with the American Anglers. Dwayne managed a limit of bass that weighed in at 15.41 pounds and was just enough to edge out Juan Monroy's 15.40 pound limit. Juan, a member of The BASS Club, claimed the 3rd Place spot with his sack. Cory Fontenot of the Katy Bassmasters came in with a limit that weighed in at 14.32 pounds which was good enough to claim 4th Place. Thomas Ferro of the Seven Coves Bass Club rounded out our Top 5 for the event with a 13.78 pound limit of bass backed by a 6.02 pound kicker.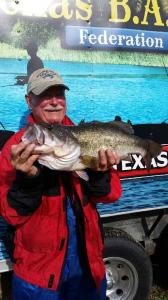 A bunch of healthy looking fat bass were brought to the scales this day, but Don Kemp and Terry Reed of the Seven Coves Bass Club claimed the Hawg Hunter awards. Don claimed the Big Bass of the event title with a huge 8.34 pounder. Don weighed only one fish for the event but it was a good one. Also this was Don's first year to compete in a Texas B.A.S.S. Nation event; not bad for a first tournament keeper. Don was a bit nervous during weigh-in as he had to watch a lot of good fish cross the scales. When Terry Reed came to the scales with a sack that was a couple of fish shy of a limit, but weighed 12.14 pounds  Don inched closer to the scales because Terry indicated he had one to weigh for Big Bass. Terry pulled a behemoth bass from the sack and we knew it was going to be close but Terry's bass tipped the scales at 8.14 pounds good enough for the 2nd Place Big Bass honors. A total of 16 places were paid out for a total of $5,595.00 and two places for Big Bass for a total of $620.00.
We had a great turnout for our first event this year. I want to applaud each and every angler that participated as out of the 327 bass that were brought to the scales, ALL!! 327 bass were released in great health back into Sam Rayburn to be caught another day. I want to thank the Region Staff for their help and the American Anglers and Nacogdoches Bass Club volunteers for their help. Our events are large and we couldn't do it without support. Special thanks to Terry Sympson of Jackson Hill Marina for providing us the site and having breakfast ready. Robbins Chevrolet/Nissan (Ricky Bishop) for sponsoring the awards again this year, Lakeside Boat Repair, Pro Tungsten, Impulse Rods, Mr. Twister, G & S Trolling Motors and BIOBOR Fuel Additives.
Hope to see everyone at our next event scheduled for Lake Conroe on March 14th. Start getting your registration in as I believe we will be looking at another great turnout. There will be a final registration on Friday, March 13th, at StowAway Marina from 4 pm till 6 pm. This will prove to be another exciting event as Conroe has been known to produce some 30+ pound sacks, especially if the weather cooperates the possibility of an early spawn.
David Glezman, Director