The Texas B.A.S.S. Nation Southeast Region visited Lake Palestine for our 5th stop of the tournament season Saturday, May 16.  The last time we were at Palestine, anglers braved sleet, snow, and the lake was at pool level.  Although it was great to fish the lake 45 degrees warmer than our last visit, the recent rains provided the water to be nearly 2.5 feet above pool.  Pre-fishing reports of "a ton of bites" predicted many limits on tournament day.
Saturday morning take-off found the lake at nearly 4-5 inches lower than the day before.  However, many anglers were not affected, and apparently the bite was just as good as the week before as nearly 80% of the field weighed keepers, with nearly a quarter of the field producing limits.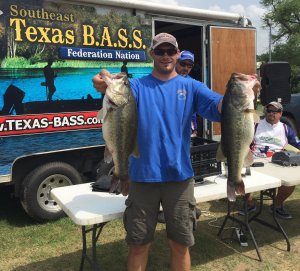 Beaumont Bass Angler member Nathan Wolfgang received the Robbins Automall Champion plaque (and a nice check) as he bested the 101 angler field with his limit of 23.30 pounds, boosted by his 7.62 pound kicker and 2nd Place Big Bass for the tournament.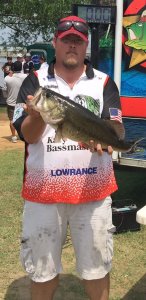 Katy Bassmaster Richard B. McGehee also managed a nice limit with his second place limit of 20.65 pounds, adding 7.45 kicker late near the launch site.  Rounding out the Top-3 was Seven Coves Bass Club angler (and Region cullmaster) Tommy Whitt with his nice 17.27 limit.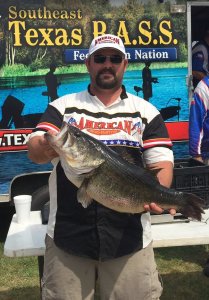 The most notable catch of the day (and year) was Bass Anglers of Lake Houston angler Wesley Bennett with an 11.11 pound toad, earning him a nice check and the Robbins Auto Mall Big Bass Award!  Wesley was punching heavy brush/cover in about 2-4′ of water.  Using a ¾ oz pegged tungsten weight, donned with a penetration color Sweet Beaver, he pulled this "big momma" out of the heavy cover with this 7'6" American Rodsmith's Predator rod.  "I didn't see her; I just got lucky and punched right in her bed.  When I got her in the boat, she was dropping eggs all over!", said Bennett.  Wesley just so happens to also be leading our Angler of The Year Standings.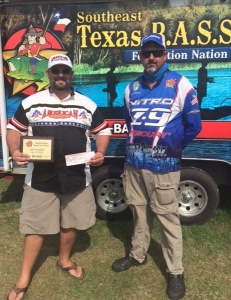 In the "Club Of The Year" race, Seven Coves Bass Club had a good finish at Palestine, inching their way over the leader, The Bass Club, by just 13.46 points.  As it was in 2014, the COTY race is tight and will come down to the very last tournament for these two clubs.  We want to also recognize members of the Katy Bassmasters and Houston Bass Bandits for their great assistance at Palestine.
The Southeast Region would like to thank our sponsors for helping to make these events possible:  Lakeside Boat Repair, Pro Tungsten, Impulse Rods, Mr. Twister, G & S Trolling Motors,BIOBOR Fuel Additives, Impulse Rods, Baumann Propeller, and Robbin's AutoMall for sponsoring the award plaques.  We would also like to thank our gracious host and their staff at Lake Palestine Resort for all of the great accommodations and assistance with the tournament.
With the lake rising over 4.5 feet in May alone, the Southeast Region's last event will be at beautiful Lake Belton on June 13, 2014 out of BLORA. Please be aware that this is a military facility and we encourage all anglers to abide by all posted regulations while traveling throughout this property.   Please remember to "clean, drain, and dry" your boats after Belton as it has been identified as one of the newest lakes to have been found containing zebra mussels (plus it is a state law).  We look forward to seeing everyone at Lake Belton!
-Your Region Directors