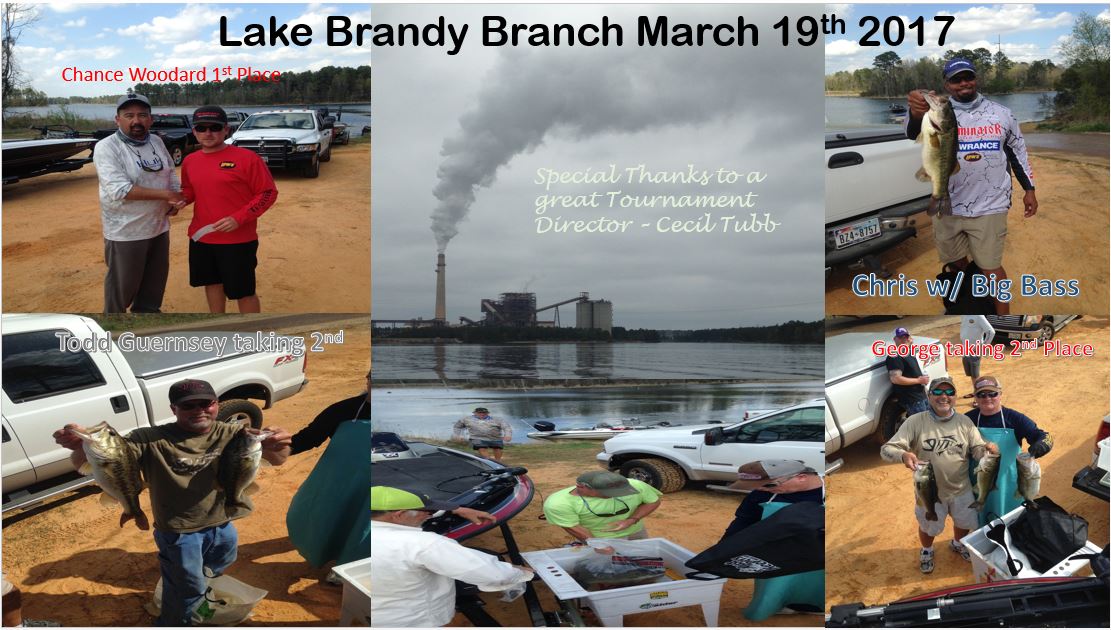 The second stop to the Northeast Region's 2017 season featured Brandy Branch Lake on March 19th, 2017. For the past five years Brandy Branch has been excellent in January or February due to the warm waters of Pirkey Power Plant. The scuttlebutt was that the lake would not fish well because of timing and as a result 27 anglers ventured to earn their way to the regional championship. February was a bye month because of this year's State Championship held on Lake Falcon on February 17th & 18th.
The water temperatures ranged from 64 to 88 degrees depending on which side of the lake you fished, and for the most part the spawn was over. Last year's Lake Amistad's State Champion Chance Woodard (North East Texas Anglers) bested the field with five bass weighing in at 18.00 lbs. and took 1st place fishing depths from 15 to 40 ft. of water by firing up schools of post spawn fish around schools of shad. Chance used a variety of lures from a drop shot, Carolina rig, and football jig to catch over 3 limits of fish.
George 'The Black Mamba' Bryan (Century Bass Club) struck again from the back seat to take second place by bringing in five bass that weighed 17.07 lbs. From the first cast to the last, George pulled in a 4 pounder to keep his boater (Randy Kvapil) off keel all day by grabbing the net to secure his second spot. The Black Mamba used Carolina rigged lizards and senkos off main lake points on both sides of the lake.
Finishing in 3rd place is 'The Rookie' Todd Guernsey (Red Oak Bass Club) who brought in five bass weighing in 11.65 lbs. Todd caught most of his fish on a ditch near the tree lines across the launch ramp with Texas rigged plastics.
Twenty-three out of twenty-seven anglers caught fish. Brandy produced 71 bass for 178.52 lbs. with a 7.76 lbs. average. Big Fish went to Chris Brewton that weighed 5.86 lbs.
The Northeast Region's next stop is Lake Ray Roberts. It will be the 3rd tournament of the season held on Sunday April 23rd. This will be a combined tournament with the North Central Region and you will have to declare at the tournament that you are fishing both regions to get points for both regions. Sign up on the Website, Facebook, or contact the regional or tournament director. There will be no Saturday meeting for this event. Signup will start around 5:45 am CST at Jordan Ramp, the drawing of partners will occur around 6:15 am CST. Participants from the NE Region will pay the NE Regional Director (those who have fished both events). For this event, let's allow the Tournament and Regional Directors pull up their boats 1st to weigh in their fish and get ready for a fast organized weigh in.
On a final note, let's also congratulate 2017's Club State Champions Century Bass Club 2.
https://www.facebook.com/NETXBASSNATION