The Southeast Texas B.A.S.S. Nation began their 2017 tournament season at Coleto Creek Reservoir, Saturday, January 14. The lake level was nearly 3-feet low, and with looming high winds, set up for a tough tournament.  However, the anglers were thankful for the unseasonably warm weather with high temperatures in the upper 70's.
At the end of the day, 92% of the field weighed in fish, with 52 of the 112 angler field weighing in limits.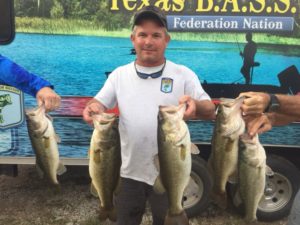 Finishing in 1st was Larry Green with a 5-fish limit of 18.78, with a 5.11 kicker.  Larry was fishing trees on points in 12 feet, where most of the fish were suspended.  He caught his fish flipping creature baits on Kistler rods & Shimano reels.  Larry stated he had a very late bite with last 2 culls at 3:15, including his 5.11 kicker!  At that point he put the big bass in his livewell, and called it at day, stating if "it's meant to .be…", and it was!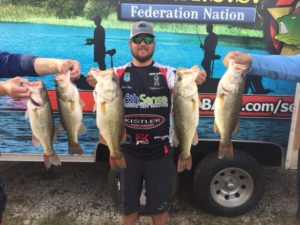 Following in a very close 2nd was last year's Coleto Creek winner, Steven Nieto, with a 18.61 pound sack.  Nieto stated his fish were caught in 12-16 feet on a 6th Sense Crush 300 DD, on Kistler Rods.  Steven thanked his sponsors, 6th Sense Lures, Kistler Rods, Bionic Fishing, Kustom Kicker Jigs, Lake Fork Trophy Lures, and Rod Sox for his success.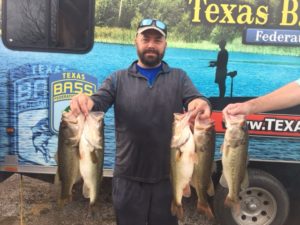 Ed Grisham, not only assisted with emcee duties at take-off and was the last out, but the delayed start time had no effect on Ed as he managed a 3rd place finish.  Ed stated his 17.66 pound limit was caught using Carolina Rigs and crankbaits in 10-15 feet.  Ed wanted to thank his wife, April, as his "sponsor" (good call Ed!).
Big Bass Honors go to Phillip Garrod with a nice 6.94, followed by 2nd Big Bass of 6.32, caught by Dwayne Pavlock.
Thank you to The Bass Club & Katy Bassmasters for assisting with parking and weigh-in duties. We look forward to seeing you all at Toledo Bend, San Miguel Park, February 11.
Special thanks the following 2017 Partners for helping to make our grassroots tournament trail possible:
Robbins Chevrolet/Nissan, Impulse Rods, G&S Trolling Motors, Omega Tackle, ProTungsten Weights, Bass Boat Saver, J.J.'s Magic, Power Tackle, Lew's, Zoom Baits, Rat-L-Trap, Solar Bat Sunglasses, Kick'n Bass, Precision Sonar, big bass baits, Lakeside Boat Repair, The Rod Glove, Megabass, Apollo's Shield Apparel, Larry The Lizard Custom Baits, Legend Lake Maps, Roof Masters, Double ZZ Baits, Molix, and Big Bite Baits.