October 22-23rd, 2016
Texas B.A.S.S. Nation – Texas BASSMASTER Team Trail – Championship – Lake Palestine, Texas
The Texas Bassmaster Team Trail (TBTT) held its 2016 Championship at beautiful Lake Palestine, on October 22-23, 2016. The event was an invitation only tournament, with the qualifiers competing at various lakes on the 2016 schedule. The stakes were high, as the competitors were seeking the two (2) Texas B.A.S.S. Nation births to the Toyota Bonus Bucks BASSMASTER Team Championship to be held at Kentucky Lake, Paris, TN on November 30-December 3, 2016. The Teams that competed in all events during the year, were also vying for those coveted "2016 Team of the Year" awards, which included plaques, and prizes.   The tournament was staged at Lake Palestine Resort, where the stage was set for an exciting showdown. Lake Palestine is surrounded by boat docks and beautiful lakeside homes, and has an abundance of shoreline cover, brush-piles, and ledges where those big fish reside. The lake activity peaks in the summer months, but in October the lake was virtually left to the Anglers competing at this tournament.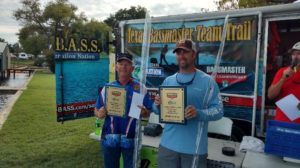 The championship lake, located in East Texas, started out with absolutely beautiful weather on Day 1, with a slight hint of fog on the water with the cooler temperatures. The anglers all returned to the weigh-in each day, and the crowd was excited to see some heavy bags come to the scales. Several teams topped the scales with 18 lb. bags on Day 1, with many others right behind. The excitement was building for a great Day 2 conclusion. Topping the scales with the tournament's heaviest stringer was the Team of Terry Reich and Dustin Hill, which included a whopping big fish @ 8.16 lbs. and a total weight of 41.62 lbs. Terry and Dustin are both members of the Seven Coves Bass Club/Conroe, Texas and have competed in various levels of B.A.S.S. sponsored events for many years.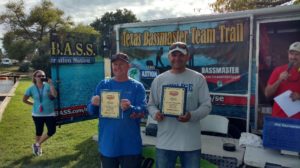 Coming in 2nd Place, with a combined two-day weight of 36.66 lbs., was the team of Curt McCauley and Sean Hoernke. They came to the scales on Day 2 with a with a five-fish limit weighing 19.00 lbs., coupling that with their Day 1 weight of 17.66, elevating them from their Day 1 standing. Curt and Sean are members of the Texas BASS Nation At-Large Club. The team of Russell Pasket and David Akin, Brazos Anglers came into the Championship leading with "Team of the Year" points, and their overall finish allowed them to just stay ahead of the other competitors seeking that 2017 title.  The 2016 Championship event paid out a total of 7 places, with $6500 dollars in cash and prizes, along with plaques/trophies. What a great finish for 2016 – overall, the Championship was a great experience!! All teams were treated to a BBQ dinner at the Friday night meeting. The Texas BASSMASTER Team Trail has demonstrated excellent growth for its two-year existence. A total of 35 teams qualified for our Texas Championship this year.  The top two (2) teams at this year's Championship, received in invitation to the Toyota Bonus Bucks BASSMASTER Team Championship.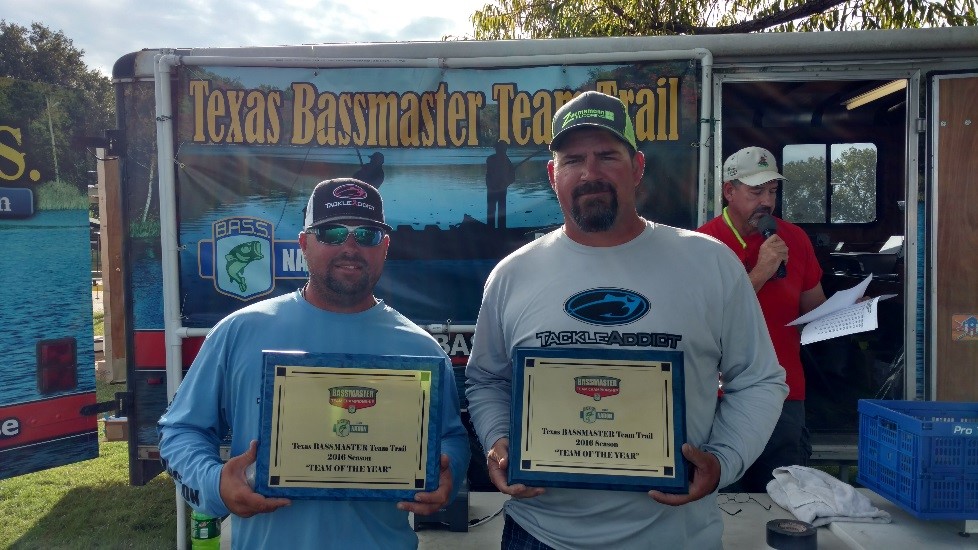 Someone will compete at the BASSMASTER CLASSIC – why not you? Come on out this next year, and I believe you will find that these events are competitive, but also conducted amongst friends. If you don't belong to a Texas B.A.S.S. Nation club now, give me a call and I can guide you to some great choices that will fit your needs.  If you are on the fence about the new and exciting Texas Bassmaster Team Trail (TBTT), get to the webpage and check it out. What a great way to enjoy competing, with a good friend in the boat!
Elton D. Brock, Director
Texas BASSMASTER Team Trail