The Southeast Texas B.A.S.S. Nation held its second event of the 2018 tournament season at Sam Rayburn Reservoir, Saturday, February 17, out of Jackson Hill Marina. The lake level was about 2 feet low, and came up nearly six inches the prior week, but in overall great shape.  Anglers reported water temperatures in the mid 50's to low 60's setting up with some great pre-spawn conditions.  The water level, mostly light winds, and overcast sky with possible light rain, indicated tournament day was going to be ideal conditions.  Our only real issue weather wise was the 45 minute fog delay Saturday morning.
Even though we had a small front overnight, at the end of the day, 56 anglers of the 131 angler field, weighed in weighed in limits. The weigh-in dock talk indicated that many bites came mostly shallow.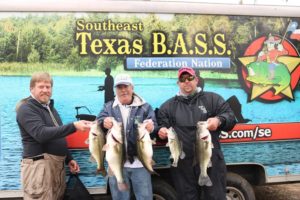 Finishing in 1st was Beaumont Bass Angler member Danny Golden  with a 5-fish limit of 23.98, with a 7.69 kicker!  This toad also awarded Jason with 2nd Big Bass of the tournament.
Following in a very close 2nd was another Beaumont Bass Angler, Carlos Mudd, with a 23.79, pound sack anchored with a 9.14 pound toad, which was Big Bass for the tournament.  3rd Place was followed by Seven Coves Bass Club angler Jason Foster with 18.49.  Full tournament results are available at http://www.texasbassonline.com/se-tournaments.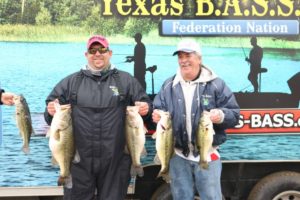 When asked about their tournament day, both Danny Golden and Carlos Mudd indicated they were on the "typical Spring Rayburn pattern", throwing lipless crankbaits through grass in 4-8 foot of water.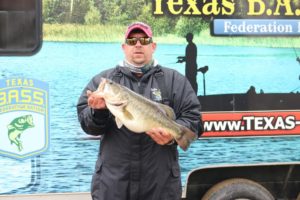 Thank you to the Houston Bass Bandits and Nacogdoches Bass Club for assisting with parking and weigh-in duties. Also, special thanks to Jackson Hill Marina for hosting the event.
March 17th will be our next event on Sam Rayburn's neighbor, Toledo Bend, out of San Miguel Park.